Andrew Breen is Senior Vice President of Digital for Argo Group (NYSE: ARGO), a mid-cap in the insurance and risk management space where he leads the company's transition to a digital business and oversees Argo Ventures, their early stage investment fund.  His team leverages machine learning toward the goal of becoming the fastest and smartest risk assessor. His digital squads use a user-centric, hypothesis-driven, iterative test and learn approach on products that amplify Argo's current business as well as explore new risk businesses.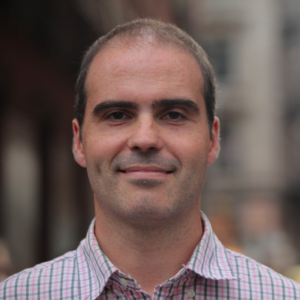 Andrew has 25 years experience developing and growing products and services for companies of all sizes in the mobile, enterprise, e-commerce, finance, media and education sectors. His repeated success as an entrepreneur, technologist, product owner, investor and business development leader is the result of a unique combination of deep technical knowledge, broad interdisciplinary skills, team leadership, and negotiation capabilities.
Formerly, as VP of Product in American Express's Enterprise Digital business unit, he led multiple teams creating and delivering next generation digital products focused on new customer experiences delivering Amex's award winning customer service.  His teams built natural language (NLU) AI messaging and predictive algorithmic solutions across mobile and web properties to drive revenue, loyalty and satisfaction.
In 2014, Andrew was appointed as adjunct professor at NYU's Stern School of Business to develop and teach a graduate level course in technology product management and innovation.  Based on his methodology for building digital products and transforming organizations of any size, students learn how to leverage small teams to iteratively build technology products that deliver outcomes for their users.  The course is now a core class for Stern's Tech MBA launched in 2018.
Previously, Andrew drove the formation and growth of several tech startups through successful launch, expansion and exits including ThinAirApps (sold to Palm), Interactive Imaginations (sold to form 24/7 Media), EarthWeb (sold to become Internet.com), Medialets (sold to WPP).  As Director of Palm's Services Product Group, he led the formation and strategic direction of Palm's wireless data services business. In 2007, he was the lead industry advisor to Harbinger Capital on their $100m investment in Openwave where he engaged the Board and management to reduce product lines, sell non-core businesses, restructure costs, and return over $200m to shareholders.  Over his career, he's been an advisor to Northwestern Mutual, Skype, Credit Suisse and multiple tech startups and investment funds.
Andrew is a regular speaker at technology industry conferences on product development, innovation and organizational design.  He is co-author of the 2017 book, Strategy and Communication for Innovation (Springer) addressing the organizational and cultural issues around realizing innovation at scale and is working on the successor to be published in 2019.  Andrew has a dual Information and Decision Systems and Industrial Management (business) degree from Carnegie-Mellon University.